2021 Ferrari F8

Ferrari's dominant mid-engined 458 and 488 have been truly iconic machines, with each model combining peak performance and breathtaking aesthetics into an unforgettable experience behind the wheel. The new F8 series takes this love for mid-engined V8 supercars into new territory, evolving and reimagining the already-legendary series of models.
The F8 takes the curvaceous, yet aerodynamic exterior styling cues already seen in its predecessors and amplifies them to create an aggressive and race-ready appearance. A large new front end S-Duct, bonnet, and redesigned spoiler account for 35% of the F8's increase in overall downforce compared to the 488 GTB. All of these innovative aerodynamic improvements let owners drive the F8 at its absolute limit with confidence and ease. A new pair of slimmer horizontal LED headlights accentuate the front end's attractiveness, a redesign that allowed for new brake cooling intakes to be fitted, greatly improving airflow.
The F8's large, elegantly incorporated side air ducts have been improved to more efficiently direct cooler air into the engine, further increasing power. A principal concern for the F8's exterior engineering improvements to also enhance its distinctively exotic body style has resulted in an exclusively beautiful driving experience.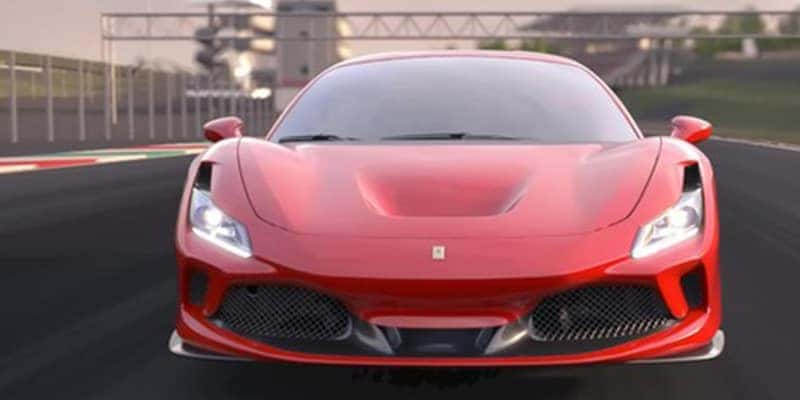 ---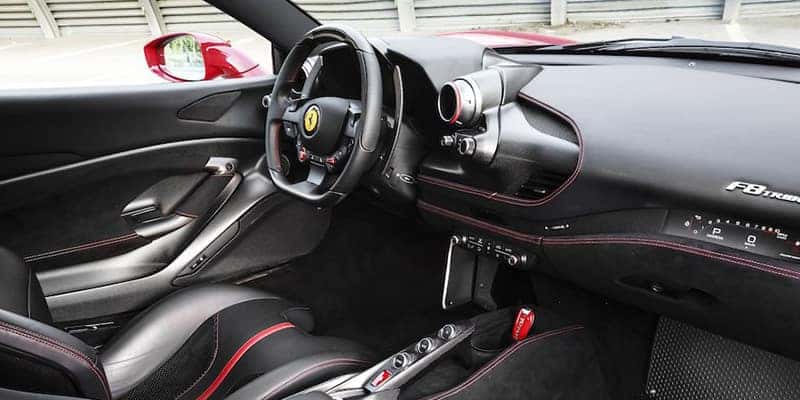 The driver-focused, exquisitely detailed interior seen in prior models has been retained for the F8 and combined with redesigns to the dash and various other features to make the F8's cockpit truly come alive. New rounded air ducts sit within an aluminum dash structure (also available in carbon fiber) that's every bit as meticulously sculpted as the F8's exterior. The instantly-recognizable instrument cluster and digital information display can, if you so choose, be coupled with a 7-inch touchscreen on the passenger's end of the dash.
This optional feature allows passengers to view performance details, change the in-cabin music, or watch as you rapidly climb the revs and shift through each of the F8's 7 gears. The next-generation steering wheel and newly restyled seats complete the interior and make both driving and riding in the new F8 comfortable and exhilarating.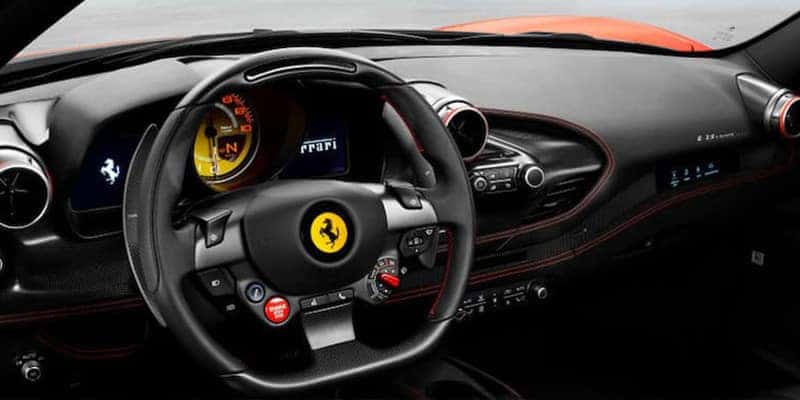 ---

For all its exterior beauty and interior detail, the new F8 wouldn't be a true step forward for mid-engined Ferrari Berlinettas without astonishing performance improvements. Naturally, the F8 delivers in this regard, featuring a 710 hp twin-turbocharged V8 which launches the car forward from 0 to 60 mph in only 2.9 seconds, making this Ferrari's most powerful series-production V8-fitted supercar to date. As ever, all this power remains firmly within your control thanks to the F8's many aerodynamic improvements coupled with a special F1-style traction control system and dry weight of only 2,932 lbs.—that's 88 lbs. lighter than the 488 GTB. The F8's incredible downforce and consequent road-hugging capabilities keep it confidently grounded even at 211 mph in a straight line.
Owing to a 7-speed dual-clutch gearbox complete with ever-beloved paddle shifters, you'll feel ecstatic through every gear change on the way. The F8 strikes that difficult perfect balance between raw power and poised handling, leaving drivers of all skill levels able to launch themselves to previously-unprecedented speeds while tearing around esses or down the race track.