2021 Ferrari 812 GTS

As the first Ferrari-manufactured open-top grand tourer to sport a front-mounted V12 engine in 50 years, the 812 GTS has much to prove. Thankfully, Ferrari's effort is far more than just a passable new convertible—it's a triumphant, breathtakingly powerful evolution in how high-performance GT cars are built.
The 812 GTS is, at its core, a convertible-top variant of the already instantly-recognizable 812 Superfast. Still present is the eye-catching, angular exterior design of the original, but with a fully redesigned rear end. A pair of buttresses sit behind the seats and house the convertible roof mechanism while lending the GTS a sleek, aircraft-like appearance in profile. The aggressive-yet-sensibly-designed front and sides of the GTS leave it with a muscular, aerodynamic, and always ready-to-pounce appearance.
Finishing the profile is a retractable hardtop which fully opens in only 14 seconds and features an electric rear screen that acts as a wind-stop for a quieter luxury convertible driving experience.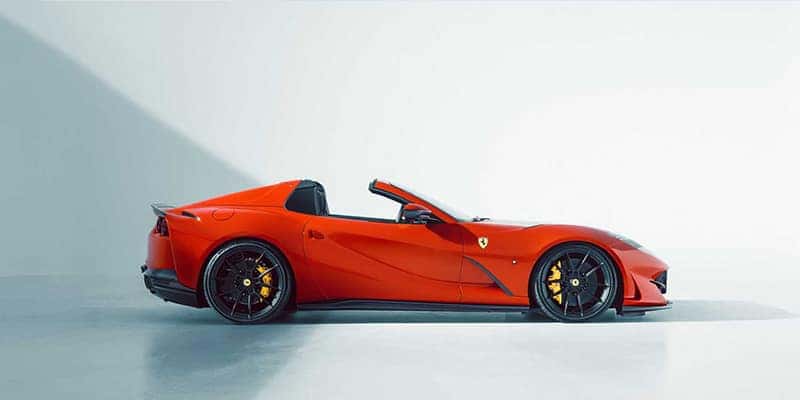 ---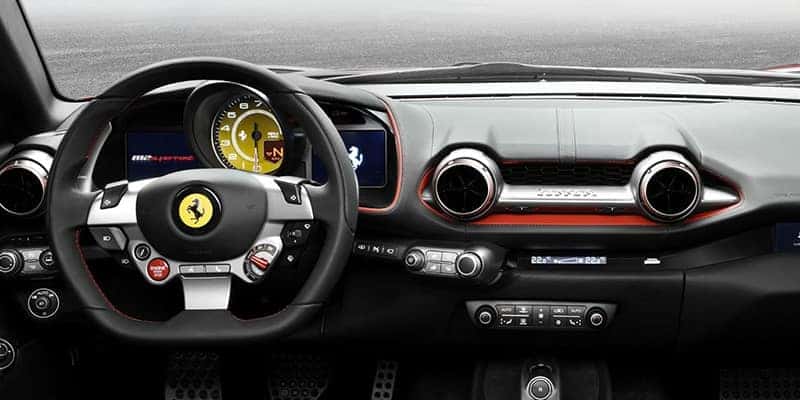 Fortunately for owners, the 812 GTS's retractable roof design in no way interferes with the space and comfort afforded by the car's interior. A roomy cockpit with ergonomically-designed seats allows both driver and passenger to enjoy the 812 GTS in comfort. Demanding attention is an F1-inspired steering wheel that reminds drivers of the Ferrari lineage and keeps them in direct control of the 812 GTS's multiple performance functions.
Further inclusions like an integrated navigation system, helpful voice-activated features, as well as Bluetooth® and music streaming add a modern touch to this reimagined Ferrari. Colored stitching surrounds an updated instrument cluster with contrasting colors to complete the 812 GTS's unmistakable interior experience.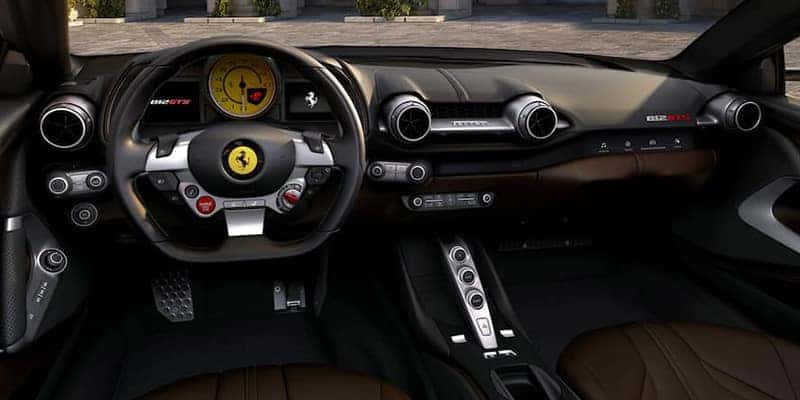 ---

A major element of the 812 GTS's re-engineering, and what customers expect more than anything else from a Ferrari, is its performance. The 812 GTS fully delivers. A naturally-aspirated 789 hp V12 launches the car from 0 to 60 mph in less than three seconds, eventually carrying it to speeds of over 211 mph. A 7-speed dual-clutch gearbox ensures all that power is used effectively while an F1-Trac traction control system and exceptional downforce afforded by the car's intelligent design guarantee the 812 GTS remains planted when driven to its limits.
Carbon-ceramic brakes and performance tires allow you to stop every bit as quickly as you accelerate, which when combined with a highly innovative side slip angle control system, afford drivers even more handling if they ever choose to get sideways.